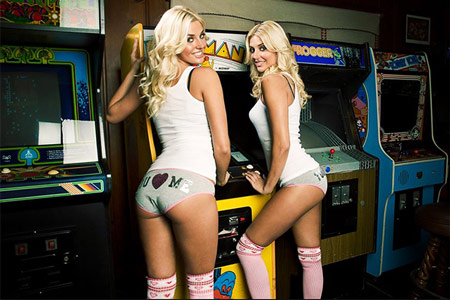 Sex games can make any sexual relationship better. Everyone likes to have fun. We all enjoy a bit of light hearted, let-go time. It not only exaggerates the merriment of the situation but feeds your mind and soul with some much needed joviality. What a lot of people forget is getting to the sex act is just as important as what happens when you arrive. Once you climax, it's all over so why not prolong the journey as long as possible? Playing sex games with your hookup partner makes your time together even more fun and memorable. Give these a shot and enjoy the amped up level of sexy they ignite.
Times Up for Your Hookup Partner
This is a game that both speeds things up and slows them down. You use an egg timer set to 30 minutes and begin kissing touching and teasing until the timer goes off. The rule of the game is no penetration until the bell sounds. If one hookup partner breaks the rule and falls victim to lust, they lose. If there are rewards or penalties, you decide. That is where the fun comes in.
Role play with Your Hookup Partner
People really do underestimate the power of role play. (Read Some Role play tips). It can be intimidating and a little uncomfortable at first but the benefits are exponential. Role playing during sex can unleash a beast of confidence. It's refreshing to shed all personas placed on you by the world and become whoever or whatever you want to be. A willing hookup partner in sexual role play is a willing partner in a more open relationship. Role play can be anything from a little dirty talk to a full-on costume situation. Anything goes. Teacher/pupil, nurse/patient, professor/college student, mechanic/car owner, the list is infinite.

See if Your Hookup Partner is a Good Guesser
Gather a bunch of household items and a blindfold. Cover the eyes of your hookup partner and choose an item from your stash. Items like feathers, fruits, fur, ice, sponges, silk and wood make good play toys. Click Here for the Best Foods to bring into the bedroom. Anything that feels funny works well. It is amazing how much we depend on our sense of touch. It is fun to find out together how carnal the sense can be. Choose fun rewards for guessing correctly. The more imagination you put into games like this, the more fun it will be.
Strip Poker Can Get Your Hookup Partner Naked in No Time
The age-old sex game of strip poker has never failed to set the scene for epic sex. It's a game that requires thought and strategy which makes it that much more empowering when you win. It is also a slower paced game. It takes some time to get a person naked in strip poker and the wait makes everything so much more erotic. You have time to think of all the filthy things you are about to do. Make sure you start with an equal number of clothing items on and both follow the same rules. You don't want anyone crying foul after they lose a hand.
Get Out and About with Your Hookup Partner
One of the most super-hot sex games to play with your hookup partner involves leaving the house. Arrange to meet at a bar separately. Once your there you can live out any one of a million fantasies. Pretend she's a hooker and you're taking her to a hotel for a quickie. (How To Have The Best Quickie) Watch as other men hit on her and then make your move too. Only the two of you will know what's going on and it is a huge turn-on. There is so much fun you could have with this scenario and it all ends with the two of you rolling around under the sheets for hours.
Adding sex games to your hookup partner repertoire can only help you. Playing together helps keep the lines of communication strong and allows you to be yourself. Those are two qualities that must be present in any type of relationship in order for it to succeed. Playing games also heats up the sex. Even if things are not getting boring in the be