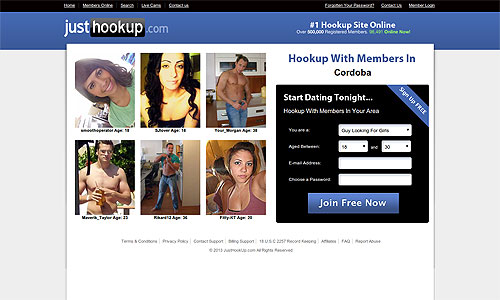 After signing in to my free account (hadn't done the upgrade yet) I was hit with a pop up ad for a lifetime membership costing only $29.95. It's actually a pretty good deal, although it's an outright lie to call it a lifetime membership since in the fine print they say it's only for five years. Given the incredible price they're offering (most sites cost $30/month) you'd have to be insane to pass it up, right? Not quite.
Unfortunately a membership to a hook up site is worthless if you can't actually hook up and it's a lot harder on JustHookup than it is on the higher quality sites in the niche. The troubling truth is that most of the profiles here are bogus (expired profiles they still list as active), outright fakes, or scamming members looking to part you from your money in a variety of ways. You'll send email after email after email and you'll receive no response or fake responses. You'll end up intensely frustrated with having paid even $30 for the site since you'll get absolutely nothing out of it. If you hook up once in those five years it would be impressive.
It's not just the lack of actual members to get in contact with, either. The site is littered advertisements, the surest sign on a sex dating site that they're not helping you hook up. If they were doing a good job with that part of the business they wouldn't need to pull more money from you by getting you to order a webcam show or sign up for a porn site through them. The good sites know this is true and know that the user experience is of the utmost importance, which is why they minimize the advertisements and keep them out of the way.
JustHookup hasn't done a particularly good job of getting members you want to sleep with to join. Browse the listings and you'll see a slew of obviously fake profiles and a slew of older, fat women. It's nice if you're into big girls but for those of us that want a height and weight proportionate girl it's a disaster. Most profiles on the site offer almost no information, a sure sign that the girl isn't active and will not get back to you. If she pays for a membership and wants to get in contact with guys to get laid she will fill out her profile, at least a little bit. That's why gets depressing to browse through empty profile after empty profile on Just Hookup. You realize how few women there are to contact.
JustHookup is not a good sex dating site. You will most likely not hook up. The fact that they're offering a five year membership for $30 tells you they're not at all confident in their product and are desperate to get any amount of money they can out of you. The preponderance of ads is another good example of that. It's not worth the money, not even close.