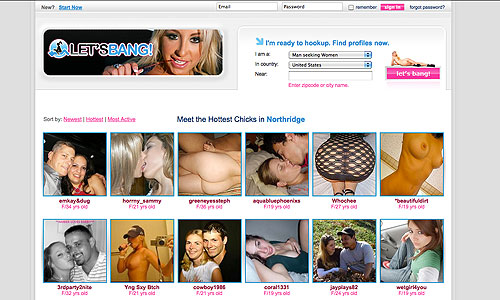 Go to the Lets Bang main page and you'll see lots of hot chicks flashing their tits and pussies, modeling lingerie, and hanging out with their boyfriends. Most of the really hot chicks are completely fake, put there by the site to make you think there are hotter women than they could ever hope to convince to join. The inclusion of so many couples seems a little strange, although perhaps a bigger percentage of their audience than you might imagine is actually swinging couples looking to get wild.
The LetsBang member's area is fairly well designed, helping it stand out from many of the lower quality sex dating sites. There are a few too many ads for my taste, particularly those for webcam shows. If you're a free member you'll notice you have lots of messages waiting in your inbox and that you'll be able to read them if you sign up for an account. Those messages are fake, sent to you by a bot of some sort in hopes of convincing you to pay for a membership. They prey on desperate guys that want so badly to be liked by a pretty girl that they'll pay good money just to read a fake message that asks if you want to hook up. Message that girl back and you will never, ever hear from her again and you will certainly never get to meet her in person. The same goes for the chat notifications that pop up. Within minutes they'll come and you can start chatting as soon as you pay for a membership, except when you actually do that you'll discover that the girl doesn't exist, that she doesn't want to chat and show her nude pictures, that she doesn't want to meet you for sex.
LetsBang falls right in the middle of the sex dating sites. It's not a bottom of the barrel nightmare with a crazily skewed male to female ratio and nothing but fake and scamming profiles and it's nowhere near the quality sites in the niche that actually offer you a great hook up experience with real men and women that want to have casual sex. It's not a crime to be in the middle, but it's disappointing to see that they could have built something useful but instead chose to build something meant to part you from your money and give you very little in return. The get laid guarantee merely offers you three more months of membership at no charge, which seems pretty damn useless if you're not having any sex in the first place.
The amateur porn collection they've built is decent. It's not actually user-submitted but it is amateur sex and masturbation so it has some value. The videos can be streamed with a click and there are tons of POV blowjobs, some sex, and plenty of girl masturbation, including some that looks webcam style. It's nice but of course it's not a reason to join and spend your money on a site that won't get you laid nearly as often as the quality sites we've reviewed.