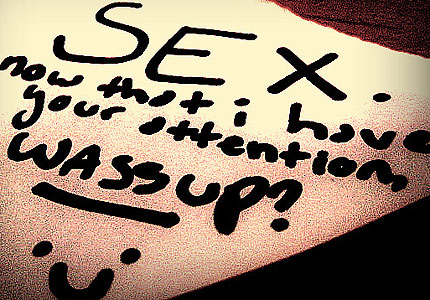 If you want to hook up you need to master the art of the first email. Unless you look like Bradley Cooper you'll be the one sending the emails the vast majority of the time (ladies on hook up sites are inundated with messages so there's rarely a need to pursue guys) so you need to know how to do it. Below you'll find a fairly simple checklist to go down that will help you craft the perfect email. Make sure each email you send fulfills the checklist.
– Make her laugh (or giggle): You don't have to be a stand-up comic or make her fall out of her chair laughing. A little chuckle, a snort, a giggle; all of these things would work. The idea is to associate you with the good feelings of laughter, which will increase your chances of getting a response.
– Compliment her: You absolutely must avoid the typical topics here. She's heard that her tits are great dozens, if not hundreds of times. She knows her ass is hot. Try something original, like how her smile makes you happy or her hair is absolutely fantastic. Try and be different.
– Personalize the message: This one is simple. You just need to pull something from her profile that lets her know you read it. It can be a comment on her favorite music, movies, books, her job, etc. If her profile has no information then she's not worth writing to.
– Craft an original message: If you're copying and pasting the girl will know it immediately. There's nothing girls hate more on a hook up or vanilla dating site when guys cut and paste their messages. It shows zero level of care.
– Keep it clean: For some reason guys think because it's a hook up site that the girl wants to read something filthy. She doesn't need to know what positions you're going to screw her in or how you're going to go down on her like a tiger. That stuff is assumed and while it would turn you on if a girl did it she's going to be turned off so keep it to yourself.
– Give her a reason to get back to you: This should be a brief question. Usually it's you asking her if she wants to instant message or get to know you better. If you want to be more original you can ask a specific question about something in her profile (have you ever seen Coldplay in concert?).
– Manage your length: If your message is just a sentence or two she'll feel like you didn't take the time to show you care. If it's too long she'll delete it before she gets to the end. Keep it short, not tiny.
– Smart is good: Studies of messages on sex dating sites show that those filled with text speak, grammatical errors, and spelling errors have a far lower response rate. In other words, if you sound like an idiot the girl is not going to get back to you. Text speak is for texting, not for an actual written message and there's no excuse for anyone that went to school to be making egregious grammatical or spelling errors (most browsers have a spell check function you should be using).
That's a lot of information but in truth it's not that difficult to craft a message that works.
Here's an example that worked on SocialSex.com:
Hey, I'm utterly enchanted by pretty redheads so I had to send you a message. Your glasses are super cute in your picture and I love a girl with freckles. I promise if you visit my profile there won't be any pictures of my junk 🙂 Just last week I watched Super 8 and loved it. The father and son theme under it all really resonated with me. Have you seen any other JJ Abrams movies that you liked? I'd love to get to know you better and I have a feeling we'd be a good match and would have fun together. Looking forward to hearing from you.
Here's an example of a terrible message to that same girl:
I love me a chubby chick and I want to know if the carpet matches the drapes, know what I mean baby? We should get together so I can go down on that fiery bush of yours and show you what it feels like to cum over and over again.
It's a sex dating site but a message that's purely sexual is almost certain to end up as a failure. The chief reason for that is the girl ends up feeling like you don't care about her even a little bit. She feels like you see her as a vessel for orgasm and despite her desire to have sex and have a good orgasm she doesn't want to be treated like a whore. That's a simple concept to understand, right? It's not a problem to be sexually suggestive.
Here's an example of something a little more suggestive that worked on AdultFriendfinder.com
With a name like Sex Panther you must be bombarded with messages. I love that you wear your confidence on your sleeve and I can't help but be intrigued, particularly at the enticing cleavage proudly displayed in your picture. Does the Sex Panther like to conquer her mates or does she prefer to be conquered or is all of it fantastically fun? I think we could learn a lot from each other about the best thing life has to offer.
Here's a bad way to message such a sultry chick:
"Your tits are hot baby. Get back to me and let's f***."
If you're going to be sexual you need to dress it up a little. Make it seem like you're the kind of guy that thinks about how to pleasure a woman, not the kind of guy that's going to crawl on top of her and thrust until you've had your orgasm without giving her pleasure a second thought. Some women are interested in a purely physical encounter but they don't want it with a guy that isn't concerned with their physical desires. Can you be the guy that is concerned about giving a girl the best orgasms of her life?